For years, Malaysia cruised under the tourist radar, overshadowed by its more popular Southeast Asia neighbors such as Thailand and Singapore.
Yet, steady economic growth and a particularly catchy "Malaysia Truly Asia" tourism campaign have helped lift the country to prominence.
Malaysia is a tapestry of diverse cultural influences, drawing from its local indigenous, Malay, Indian and Chinese communities as well as its colonial heritage.
It's also a story of contrasts -- a place where smooth highways lead to both modern cities and lush rainforests, where street vendors set up shop in the shadows of skyscrapers and hipster cafes operate next to traditional kopitiams (coffee houses).
On August 31, Malaysia celebrates Merdeka Day, signifying 60 years of independence from British rule.
In commemoration, we've compiled a list of 10 things to do and eat in this unmissable Southeast Asia destination.
1. Discover Malaysian wildlife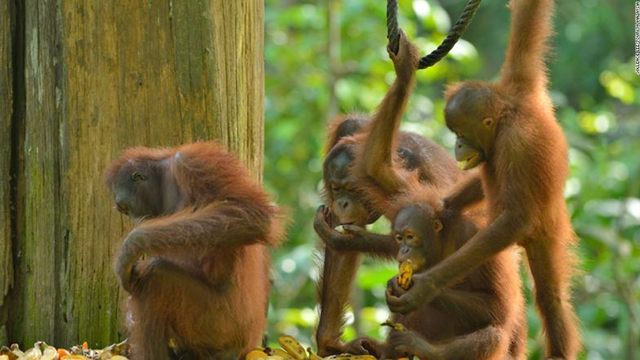 Malaysia has no shortage of natural beauty -- it's home to one of world's oldest rainforests, extensive cave systems and immense mangrove forests.
Naturally, this makes the nation an ideal destination for wildlife spotting.
Travelers can observe fauna overnight from the safety of huts inside Pahang National Park, where the oldest deciduous rainforest in the world awaits.
In Kuala Gandah -- also in the state of Pahang -- guests can accompany orphaned elephants for daily baths at the National Elephant Conservation Centre.
Meanwhile, the Sepilok Orangutan Rehabilitation Centre in Sabah on the island of Borneo offers a glimpse of these endangered great primates in their natural environment. They tend to swing by the viewing platform around feeding times, at 10 a.m. and 3 p.m.
Next door, the Bornean Sun Bear Conservation Centre is dedicated to the world's smallest bear species.
2. Stay in a village
The Malaysian Homestay program works with local communities to offer an authentic kampung (village) experience.
Curious travelers can stay with local hosts -- or in traditional long houses -- both in Peninsular Malaysia and Sabah and Sarawak in the east.
The experience includes daily village activities, such as preparing local meals, fishing, feeding livestock or learning Malaysian games such as congkak (a wooden board game) and gasing (spinning tops).
3. Explore Gunung Mulu National Park
A UNESCO World Heritage Site, Gunung Mulu National Park in Sarawak is famous for its millennia-old karst cliffs.
For keen spelunkers and climbers, this means challenging mountain faces to scramble up and explore jaw-dropping cave chambers.
Deer Cave, for example, forms the largest cave passage in the world, measuring 400-550 feet in diameter. Located to the northeast of Deer Cave, Sarawak Chamber is the world's largest cave chamber, stretching about 2,000 feet in length, 1,400 feet wide and almost 33 feet high.
But not just anyone can jump in: Visitors keen to explore the more advanced cave systems must provide certification or proof of ability for the park manager's approval.
4. Go whitewater rafting
Adrenaline addicts will appreciate Malaysia's intricate network of rivers, which offers rapids for all levels of difficulty.
For class 1-4 rapids the Selangor River in the town of Kuala Kubu Bharu in Selangor, Slim River in Perak and Padas River in Sabah are just a few of the many popular destinations for recreational whitewater rafting.
More experienced rafters can head to the Telom River in Pahang to tackle class 5 rapids.
And if that's not enough, Singoh River in Perak is where rapids reach a heart-stopping level 6 -- the highest level on the international rapid scale, only to be attempted by experts.
5. Hunt for fireflies
Your boat is gliding silently along a mangrove-lined river. Daylight is waning and suddenly, you spy hundreds of flickering lights.
In Malaysia, there's only one thing it could be: Fireflies.
Also known also as lightning bugs, or kelip-kelip in the local Malay language, these tiny creatures are beloved for their beauty.
There are several locations where travelers can admire the flickering insects, including Kuala Selangor in Selangor; Kuala Sepetang in Perak, Kampung Cherating in Pahang, Kuching in Sarawak as well as Sandakan, Semporna and Kota Kinabalu in Sabah.
As a bonus, some tour groups will even throw in a seafood dinner before or after the boat ride.
6. Find an island paradise
If it's clear water and sandy shores you're after, Malaysia's got you covered.
From luxury resorts to private islands, backpacker hostels and beachfront bungalows, there's an island experience for every budget.
Not to mention a few of the world's best dive sites.
The rich waters are teeming with sea creatures, such as hammerhead and other sharks, barracudas, sea turtles and manta rays.
For diving, popular choices include the Perhentian Islands, Redang Island in Terengganu, Tioman Island in Pahang, Pangkor Island in Perak, Langkawi Island in Kedah, and Gaya, Sipadan and man-made Layang-Layang island, all off Sabah.
Plan ahead as islands off the east coast are closed from October to February or March, due to the annual monsoon season.
7. Try metalworking
At its height in the 19th century, Malaysia was the largest provider of tin ore in the world. And where there's tin, you will find pewter, a gray alloy metal made up of tin, copper and antimony.
Royal Selangor, the world's largest pewterware producer, gives travelers a hands-on introduction.
Opened in 1885, the historic brand's headquarters offers two pewtersmithing workshops: the School of Hard Knocks for beginners and the more challenging The Foundry.
Under the guidance of a trained pewtersmiths, travelers use traditional tools and techniques to create their own keepsakes.
Royal Selangor, Visitor Center 4, Jalan Usahawan 6, Setapak Jaya, Kuala Lumpur, Malaysia;
8. 'Backpack' on two wheels
The cycling community in Malaysia has grown dramatically in recent years thanks to emerging networks of cycling lanes in cities across the country, such as Kuala Lumpur, Shah Alam in Selangor, George Town in Penang and Putrajaya, Malaysia's administrative capital.
Many experienced cyclists, too, are abandoning urban paths and taking to dirt roads to better explore the country.
One cycling enthusiast, Nadiah Aziz -- who blogs about her cycling adventures at Folding Tales -- describes cycling as "the new way to backpack."
And you won't have to go it alone: Many grassroots groups organize cycling excursions along lesser-frequented trails.
Among them are Cycling Kuala Lumpur, Bicycle Map Project (KL), husband-wife mountain biking team Doowaroda (nation-wide), and Kinabalu Iron Horse (Sabah).
9. Tour the region's largest Islamic Arts Museum
The largest museum of its kind in Southeast Asia, the Islamic Arts Museum Malaysia showcases the richness of Islamic cultures through its extensive collections of artworks and artifacts.
The museum emphasizes works from Asia -- specifically, China, India and the Malay Archipelago.
It offers a sense of Malaysia's unique form of Islamic identity, a result of its location at the center of once great trade routes, Islam's simultaneous expansion in the region and the country's eventual multicultural makeup.
Islamic Arts Museum Malaysia, Jalan Lembah Perdana, Kuala Lumpur, Malaysia; +60 3 2092 7070
10. Learn about Malaysia's musical history
Opened last year, the Penang House of Music, an interactive history museum, tells the story of the island's musical heritage.
This large complex chronicles Malaysia's musical beginnings, achievements and musical greats, such as famed singer-songwriter, director, and actor P. Ramlee, jazz legend Jimmy Boyle and composer Ahmad Nawab.
The House of Music also documents local traditional art forms such as bangsawan, boria, ronggeng, puppet theater and Chinese opera.
Those harboring secret hopes of becoming a radio DJ can give it a try in the Radio Room.
Penang House of Music, L4-02, 4/F, KOMTAR, Penang, Malaysia; +60 4 370 6675
Source: CNN Travel
Places we have blogged about